Day 2 :
Keynote Forum
University of Florida, USA
Time : 09:30-10:10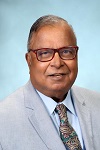 Biography:
Dr. Anil K. Mandal is a native of India and a naturalized citizen of the United States. He graduated from Calcutta National Medical College and is a diplomaye of American Board of Internal Medicine. He is the author of many books and articles on research in diabetes and kidney disease. He is two-time Fulbright Scholar to India and Visiting Professor to 24 countries where he has lectured on diabetes, high blood pressure and kidney disease, Dr. Mandal began the Diabetes Research Foundation for the prevention and treatment of diabetes based on his knowledge that diabetes is the most common cause of kidney failure worldwide. Dr. Mandal's conviction are in office, patients come first and in the home, children comes first. He is dedicated to helping diabetic patients live a good life and not enter dialysis.rn
Abstract:
We previously reported that dglucose is a strong predictor of renal function change in diabetes. This study is an expansion of a previous study but with longer duration. Eighty five diabetic patients were treated with a combination of glargine or detemir and regular insulin for 26.3 ± 24.6 (SD) months. Blood pressure was controlled by beta blockers, calcium channel blockers, sympathetic inhibitorsor a combination, and chlorthalidone in resistant cases. Angiotensin converting enzyme inhibitors and receptors blockers (ACEI/ARB) were excluded. Objectives were to determine if this paradigm of treatment prevents progression of diabetic nephropathy. Fasting (F) and 2-hour postprandial (2hPP), glucose, serum creatinine (Scr) and estimated glomerular filtration rate (eGFR);hemoglobin A1c(HbA1c); and sitting systolic and diastolic blood pressure (SBP) were recorded for first and last visits. Mean blood pressure (MBP) and differences (d, 2hPP-F) were calculated for glucose, Scr, and eGFR. Parameters between first and last visits were compared using a paired t-test adjusted for age, gender and duration of treatment with P<0.05 considered significant. No significant differences were found between first and last treatments for F and 2hPP glucose, F and 2hPP Scr, and F and 2hPP eGFR, and HbA1c.Dglucose, sitting SBP and MBP were significantly lower at last compared to first visit. Combining both visits, dglucose showed a direct and positive correlation with dScr. In conclusion the current study reinforces the importance of control of dglucose (2hPP-F) with insulin and exclusion of ACEI/ARB in achieving renal preservation in diabetes.
Keynote Forum
French National Institute for Health and Medical Research, France
Time : 10:10-10:50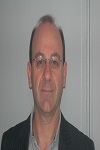 Biography:
Dr. Christian Dani, Ph.D, is an expert in human adipose-derived stem cells and differentiation of pluripotent stem cells into adipocytes. He did a Ph.D in molecular biology in Montpellier University (France). Then, he conducted a 2-year program research on the biology of embryonic stem cells in Pr. A. Smith's laboratory (Edindurgh, Scotland). He is now director of research at the French National Institute for Health and Medical Research (INSERM) and the director the "Stem Cells and Differentiation" laboratory at the University of Nice-Sophia Antipolis.
Abstract:
Adipose tissue expansion is well-orchestrated to fulfill the energy demand. A pool of adipocyte progenitors (APs) isrnresponsible for the formation of new adipocytes and for the potential of this tissue to expand in response to chronic energyrnoverload. However, molecular mechanisms controlling proliferation and differentiation of human APs are largely unknown. Chronic low grade inflammation and hypoxia take place in obese and diabetic adipose tissue microenvironment. We willrndiscuss the role playing by the TGFb family members in human adipogenesis. We will show that macrophages that are locatedrnin obese adipose tissues regulate AP self renewal through activin A. The immediate early response 3 gene (IER3) is required forrnAP proliferation and differentiation and IER3 expression is a common target of activin A and hypoxia. Altogether, we proposerna model in which changes in the obese adipose tissue lead to expansion through activin A and IER3 that are potential targetsrnfor controlling the size of AP pool in adipose tissue.